Company Profile (letter from the chairman & CEO)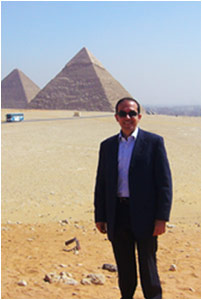 I am a citizen of both Egypt and Australia and have worked over 30 years in the travel industry in both countries. I feel this puts me in the fortunate position of truly understanding both the Western and Middle Eastern cultures. I understand what our clients want from a holiday - the experiences they enjoy, the service they seek and the attention to detail required to create a holiday of a lifetime.
Our impeccable attention to detail, rigid quality control standards, and our highly trained staff ensure that every trip with Egypt & Beyond is smooth, trouble free, unforgettable and full of wonder. The secret of our unparalleled service is in our attention to detail, insider access to some sites the normal traveller will not get to see & the subtle extras which ensure your comfort and safety.
Our Luxury Nile cruise fleet partners " Sonesta Star Goddess, Oberoi Zahraa Cruise, Sonesta Moon Goddess, Amarco I, Antares and Dahabyya Hadeel - set the benchmark standards of world class luxury on the Nile. Each Boat is unique in its own way, providing a comfortable, spacious, decorative, stylish and intimate atmosphere that is hard to match. The staff on board these Nile Cruises promise to offer every visitor a true "cruising experience of a lifetime" and treat every single one of our guests as VIPs.
The programs we suggest on this website are just a sample of what we can do, however we do specialize in tailor made arrangements for all our valued clients according to their needs, just let us know what is on your mind and leave the rest for us. All our programs are private and guaranteed departures and also most meals included as per confirmed itinerary.
On behalf of the whole Egypt & Beyond team, I would like to invite you to experience Egypt, Jordan, Israel, Morocco & Turkey with us. It will be an experience of a lifetime and we do promise to far exceed your expectations.
Tarek Mousa
Chairman & CEO